"5 Questions, 5 Answers, Many Insights" an interview with Dr. Nika Bagheri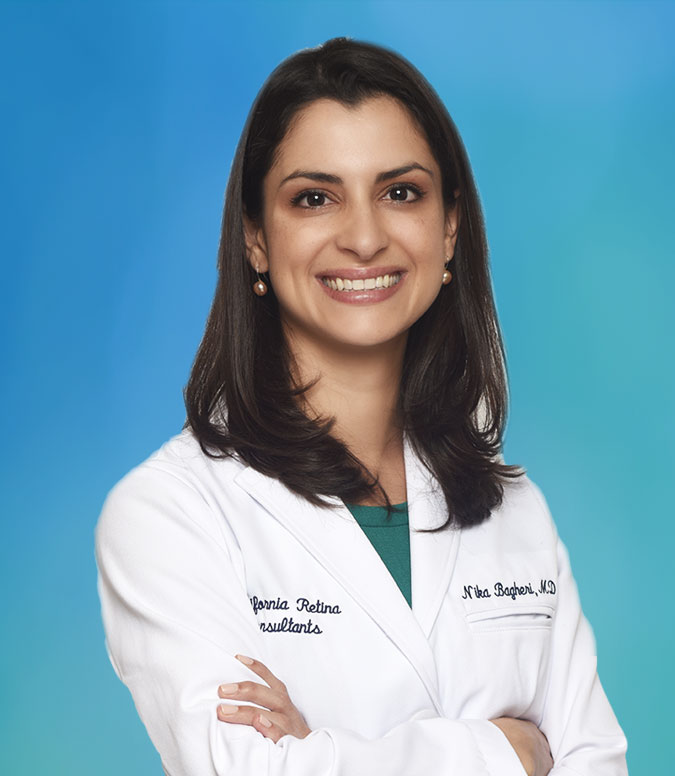 As part of our ongoing series, we sat down with one of RCA's leading surgical retina specialists, Dr. Nika Bagheri of California Retinal Consultants to learn why she pursued medicine.
What was your path to becoming a retinal specialist?
I became a physician for the same reason many people did, I loved science and was humbled by its power to heal the sick. With the support of scholarships, I attended the University of California, Irvine prior to attending the Cleveland Clinic Lerner College of Medicine of Case Western Reserve University. Research was a pillar of our five-year medical school program, with the goal of training future clinician scientists. During my studies, I was inspired by Dr. Joe Hollyfield at Cole Eye Institute and spent a year with him investigating the role of microglia in age-related macular degeneration. In addition to my fascination of retinal physiology, I also found a love for surgery—specifically microsurgery—which for me required a higher level of precision and finesse.
The stars aligned and a singular idea took hold of me: there is nothing more impactful on quality of life than vision. I had invaluable clinical exposure and training during my residency at the Wills Eye Hospital in Philadelphia, and this led to a two-year vitreoretinal surgical fellowship at Bascom Palmer Eye Institute. It was a long journey, but it was well worth it! Vision loss is a scary proposition for people to face, and I strive to be a physician like my mentors, blending compassionate care with cutting-edge medicine and technology. My goal is to have all my patients leave every appointment feeling comforted and assured that they are receiving the best possible care.
What advice would you give to others pursuing this specialty?
Find a great mentor and emulate her or him. I have been fortunate enough at each stage to have many amazing role models who taught me the lessons that carry me through to today. As in other fields in medicine, a commitment to lifelong learning is a must.
Tell us who was a great mentor or inspiration to you in your field? And pursuing this specialty?
There are too many people to count! In chronological order, Dr. Joe Hollyfield, Dr. Stephanie Hagstrom, Dr. Justis Ehlers, Dr. Dan Martin, Dr. Julia Haller, Dr. Carl Regillo, Dr. Nina Berrocal, and Dr. Harry W. Flynn are just some of the many wonderful mentors who guided me along each chapter.
Can you tell us one interesting story or rewarding experience you have had as a retinal specialist?
The great thing about retina is that one story is never enough to capture the breadth and depth of this fascinating field. We are given the privilege of saving human sight on a daily basis; moreover, our field repeatedly breaks new ground via new pharmacological agents, novel drug delivery platforms, and innovative surgical devices.
What do you hope to achieve in the next year?
Retina is in such an exciting time right now with countless clinical trials and evolving treatment options. Recent advancements in the past 10-15 years have given us the ability to treat diseases previously incurable, such as the discovery of eye injections for wet age-related macular degeneration. The current challenge for our field is delivering better medications that are more effective and last longer so that patients can enjoy more time between clinic visits and maintain a high quality of life with good vision.
As much as I love seeing my monthly patients for treatment, I would love even more to see them every 12 months simply to tell them that their disease is stable. We are also seeing these medications actually reverse stages of diabetic retinopathy, a major paradigm shift in the standard of care. With the arrival of gene therapy there are treatment options on the horizon for patients with inherited retinal diseases, which was not the case even a couple years ago. We have a lot to look forward to and are not far away from many breakthroughs in reducing the burden of eye disease. These are the privileges of being in arguably the most innovative field of medicine!