New Clinic and Research Center in San Antonio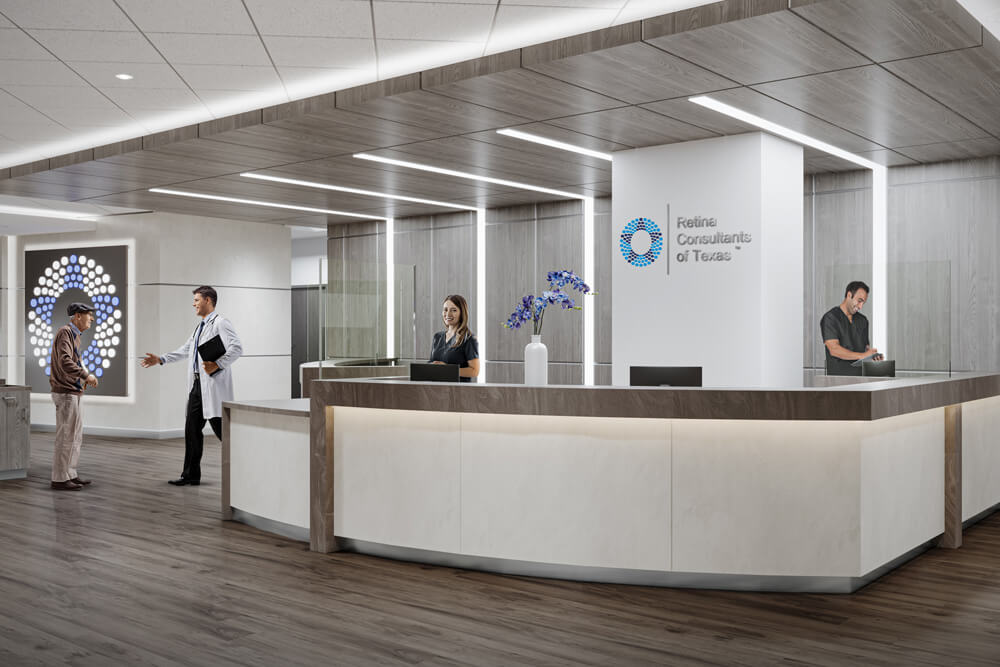 In March, Retina Consultants of Texas (RCTX) announced the opening of their new flagship retina clinic and research center in San Antonio. The state-of-the-art center is located in the South Texas Medical Center off Floyd Curl and Spurs Lane, less than a mile away from the previous location, and will offer a more comprehensive range of diagnostic and treatment options for patients with retinal conditions, as well as advanced research capabilities that will provide patients access to cutting-edge therapies. Patients can also expect larger waiting areas, more exam rooms, more parking, and a convenient drop-off area for enhanced comfort and convenience.
"We are proud to be able to expand retina research in the San Antonio region. This new clinic and research center features a larger space with more world-class diagnostic equipment, which will allow us to provide faster and more efficient care to our patients. We will also have enhanced research capabilities, which will connect our patients to the latest and most advanced retinal treatment options currently in development," said Dr. David Brown, Director of Research at Retina Consultants of Texas.
The new flagship clinic and research center is approximately 16,900 square feet and features seven work-ups in the clinic, a large sub-wait area, two doc (pod) suites with shared workspaces, and two photo/flex rooms per pod. Additionally, there are five dedicated exams per pod. The research center has two work-ups, six photo/diagnostic rooms, a large subwait area, two eye lanes, a drug room with generator backup, a laboratory with a specimen connection to shared restroom and one large and one small conference room. There are also 13 shared offices, staff workstations with visual connections to exterior daylight, and a larger research binder room. The staff break room is centrally located and has individual staff lockers.
"As a team, we are dedicated to pushing the boundaries of retina research and providing our patients with the best care possible. This new flagship clinic and research center will connect our patients with the latest advancements in retinal treatment options," said Dr. R. Gary Lane, M.D., Retina Consultants of Texas. "I am excited about the potential that this new facility holds for our research efforts, and we look forward to making significant strides in improving the lives of those affected by retinal conditions."
Other features of the new clinic and research center include nourishment stations for patients and families in generous "spa-like" waiting room environments, wireless adaptable lighting controls, automatic window shades for patient comfort, and ambient lighting for indirect illumination of the space with a reduction of glare for the patient's experience. Customized room signage and wayfinding features and generous decentralized storage throughout hallways and exam rooms are also provided.
"This is an incredible milestone for the San Antonio community and the physician leaders here! This is the first market expansion of several bringing access to the best in retinal care and clinical research to more patients," said Kurt Defenbaugh, MBA, COO, Retina Consultants of Texas.