RCA Medical Leadership Board, Business Leadership Board Gather for Quarterly Meeting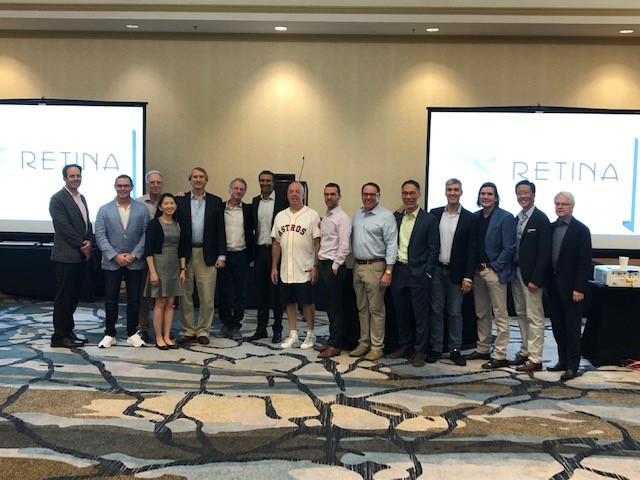 Fifteen physicians on RCA's Medical Leadership Board met in San Antonio on Thursday, October 7.
The RCA Medical Leadership Board (MLB) and Business Leadership Board (BLB) gathered in San Antonio last week for their third quarter meetings. Physicians and business leaders discussed a variety of key topics in practice management, de novo growth, and future pharmacology for patient care.
During the two-day event, the MLB and BLB welcomed Dr. Carl Awh and Chief Operating Officer Jack Flanagan of Tennessee Retina, and Dr. Raynor Casey and Director of Operations Jennifer Pressley of North Carolina Retina Associates ("NC Retina Associates"). Tennessee Retina joined RCA in September, and NC Retina Associates joined RCA in August.
On Thursday, October 7, 15 physicians representing nine RCA practices participated in a series of dynamic discussions and presentations. The physicians covered current recruitment efforts, compliance issues, and integrations of new practices, and the meeting included a special recognition of the RCA MVP Award winner for the third quarter. Dr. Joel Pearlman of Retinal Consultants Medical Group (RCMG) and RCA CEO Robby Grabow presented the trophy to Joseph Vang, a scribe for RCMG who has made outstanding contributions to his practice's success.
"The RCA MVP Award is an important way for us to recognize some of the people who are integral to our success," Dr. Pearlman said. "Employees like Joseph Vang enable our physicians to provide excellent patient care every day, and our practices could not operate without them."
Thursday's meeting gave these physicians a great opportunity to discuss the unique nature of RCA's practices and its physician-driven culture. Regional differences aside, the doctors found substantial common ground on which to act.
"I am consistently impressed by the collaboration among the members of the Medical Leadership Board," said Dr. Pearlman. "By sharing ideas with other physicians from RCA partner practices, we have been able to help each other solve common problems, serve more patients, and move forward together."
Practice administrators from around the country gathered on Friday, October 8 for a quarterly Business Leadership Board Meeting.
The next day, 13 practice administrators gathered for the BLB meeting to provide practice updates for the group and discuss their goals for the upcoming weeks and months. Joining them for this session were 13 members of the RCA national support office in Southlake, Texas. Together, they had in-depth discussions on key issues facing each practice in the months ahead.
The San Antonio MLB/BLB meeting also featured a group dinner for the physicians and practice administrators on Thursday night. After a full day of meetings, this dinner provided all attendees with a chance to get to know more about their colleagues and continue to build relationships with new members of the MLB and BLB. Before the meal, RCA officially welcomed the five physicians of Retinal Consultants of San Antonio and their practice administrator, who have been working diligently on their current integration with Retina Consultants of Texas.
"All of the RCA practices benefit when their business leaders and physicians come together to discuss new ideas," said Dr. David Williams of VitreoRetinal Surgery. "I have enjoyed these quarterly meetings and look forward to welcoming new practices to our network in the future."
The MLB and BLB will hold their fourth quarter meetings on December 3 and 4 in Grapevine, Texas.