"Uveitis and Beyond" an interview with Dr. Eduardo Uchiyama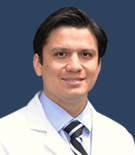 As part of our ongoing series, we sat down with one of RCA's leading uveitis retinal specialist, Dr. Eduardo Uchiyama, of Retina Group of Florida, in Fort Lauderdale, to learn how the eye is the gateway to health in the body.
How did your upbringing in Peru impact and inspire you to come to the United States and study ophthalmology?
My father is a doctor, a gynecologist, and my mother is a nurse, so from an early age I remember spending a lot of time at the hospital and I knew early on I wanted to be a doctor. My dad used to tell me stories about a friend of his who upon completion of medical school in Peru went to the US and became a very successful ophthalmologist. My father greatly admired this man and his path to medical success was very impactful on my young, impressionable mind.
In Peru, if you want to be a doctor, you must apply right after completing high school. Most people are probably not ready to make that commitment at such a young age, but that was not a problem for me. So, at age 16, I applied to medical school and was able to get a spot. I went to school for seven years, and by my final year, I had decided to become an ophthalmologist, and to go where the best possible training was available, and that place was the US. I knew it was not going be easy coming from Peru, but it was my dream, and at age 23, I moved to the US to try to make it a reality.
You are a uveitis doctor. What made you pursue that specialty?
After moving to the US, I was fortunate to secure a research fellowship at the University of Texas Southwestern in Dallas. After three productive research years, I was ready to start my clinical training and stayed at UT Southwestern for my ophthalmology residency. While I was a resident, I became fascinated by the complexity of retinal diseases and by how the correct intervention by a well-trained retina specialist can change the course of a patient's life.
I also discovered that some of the more challenging cases in our retina clinic were patients presenting with inflammation affecting the retina and other ocular structures. Patients with intraocular inflammation (Uveitis) are usually seen by retina physicians, because in most parts of the US and throughout the world, the number of uveitis specialists is very limited. Fortunately, during my ophthalmology residency, I spent some time with two local uveitis specialists who were also retina surgeons, and that helped me determine that completing fellowships in retina and uveitis was the right path for me.
After finishing my vitreo-retinal surgery fellowship at UT Southwestern in Dallas, I moved to Boston to complete a Uveitis and Ocular Immunology fellowship at the Massachusetts Eye and Ear Infirmary and Harvard Medical School. That final year of training changed the way I see patients, and the way I treat eyes. It made me a better doctor.
Uveitis patients have complex diseases, need frequent visits, and require systemic treatments, but when their conditions are handled correctly, the results are very rewarding.
When I moved to South Florida, Retina Group of Florida helped develop a uveitis referral practice, and currently, almost half of my time is spent seeing uveitis patients from all over the state.
Tell us about your patients.
I see two very distinctive groups of patients, patients with an acute condition or patients with a chronic course.
The patients with acute disease do not have any history of eye issues and then suddenly develop eye problems. They are usually seen by their optometrist or ophthalmologist and then referred to me. These patients are usually scared, and part of my job is to help them understand what is happening and to give them hope. In these patients, the issue can be either infectious or non-infectious and the management is very different. My main goal is to determine what type of uveitis it is and to control the inflammation before permanent damage develops.
As an example, over the past few years, there is a spike in cases of syphilis in the US. Some of these patients present with uveitis and are not aware of their syphilis diagnosis, and in many cases, I end up making a diagnosis of HIV at the same time. Then, I work closely with infectious disease specialists to get them treated and have their vision restored.
The patients with chronic disease have seen multiple doctors before coming to me and typically have a history of months, or even years of ocular inflammation, and typically have some degree of permanent vision loss. By the time they come to me, they do not think they can be helped. Recently, I had a doctor in his 50's who had to retire early because he could no longer see. By the time I met him, he had lost one eye and could only see fingers with the other. We controlled the inflammation aggressively with immunosuppressive medications, and his eyesight is so improved that he can now drive.
I had another patient, a six-year-old little girl, who presented with severe intraocular inflammation and knee swelling. It is not uncommon for us to find systemic issues in patients with uveitis. We treated her eye inflammation aggressively and sent her to see a pediatric rheumatologist, and now, she is 10 years old, running around and having a normal life. She wants to be a doctor when she grows up!
There are also patients that are referred with a diagnosis of uveitis, but after careful examination, we realize that their presentation is atypical, and with specialized testing, we have diagnosed cases of intraocular lymphoma, metastasis, or melanoma. In this situation, early diagnosis is key to improve patient survival.
My training and experience have given me the skills needed to identify potentially blinding conditions, even at an early stage, gauge how aggressive my treatments should be, manage systemic medications to control intraocular inflammation, and know when to refer patients to other specialists, like rheumatologists, oncologists, and infectious disease doctors for assistance.
Uveitis causes about 10% of blindness in the US. An eye examination and proper testing can be the first step to save a patient's sight or even save their lives.
What are the benefits you have seen in partnering with Retina Consultants of America?
It has been wonderful to partner with Retina Consultants of America. This partnership gives us the opportunity to share knowledge and experience with some of the other premier retina practices in the US. We have improved our research capabilities, and at the same time, find different ways to give our patients the best possible retinal care. We are very lucky to be part of a network of brilliant people who share our goal of helping patients and advancing retina knowledge through research activities. I love the fact that I can continually learn from some of the best in the field of retina.