Virtual Case Conference Launch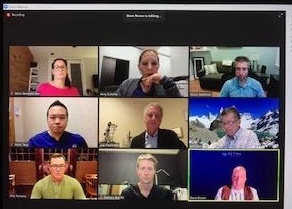 SOUTHLAKE, TX – November 30, 2020 – On November 10, 2020, Retina Consultants of America (RCA) held its first virtual case conference as part of an ongoing series to further educate and collaborate among its esteemed group of physicians. Our next case grand rounds conference will be on December 8, 2020.
The main goals of the webinar were to:
Encourage camaraderie among RCA physicians
Educate one another about interesting topics in retina including medical retina, surgical retina, imaging, tumors, uveitis, pediatrics, inherited disease, and more
Introduce new partners to the RCA network and showcase the positive outcomes of being part of RCA
Give each doctor access to the brilliant minds of 80+ retina specialists throughout the country to help solve complex cases
Provide prospective RCA recruits or potential future RCA practices an opportunity to get a taste of what RCA has to offer
Demonstrate to potential investors RCA's focus on academic excellence
From the start, there was excitement and enthusiastic banter among the group with Dr. Joel Pearlman kicking off the conference. RCA is governed by a Medical Leadership Board that is co-chaired by Joel Pearlman, MD, PhD, and David M. Brown, MD.
Drs. Pearlman and Brown are both leaders in clinical trials that led to the development of anti-VEGF injections for the treatment of macular degeneration, diabetic retinopathy, and retinal vein occlusion. Dr. Amy Schefler and Dr. David Brown both from Retina Consultants Houston were the case conference coordinators.
The case presenters included Dr. Brown, Retina Consultants Houston, who highlighted a surgical case regarding Epi Retinal membrane surgery showcasing the continuous sheet coming off a macular peel. Dr. Brown is was awarded a Best Doctor of America award and is also a Consulting Specialist of NASA.
Following Dr. Brown, a variety of topics were presented including:
Dr. Philip Ferrone, Vitreoretinal Consultants, a case regarding macular dystrophy in a 10-year-old child and its relation to gene defects and gene testing.
Dr. Peter Tang, VitreoRetinal Surgery PA, and his treatment of a 42-year-old male who was working in his barn and a foreign body lodged itself in his eye and treated with a scleral buckle on prophylactically because of PVR detachment.
Dr. Joel Pearlman, Retinal Consultants Northern California, presented a case of a 13-year-old Caucasian Polynesian girl with a 15-month history of decreased vision with flashing in both eyes. She had mild panuveitis and later developed numeral spots and purple streaks. Dr. Pearlman treated with prednisone and then methotrexate with success.
Dr. Nathan Steinle, California Retinal Consultants, presented a case treating complications from MIRAgel.
Dr. Darin Goldman, Retina Group of Florida, dealt with a 56-year-old patient who had blunt trauma to her eye resulting in a retinal detachment and repaired the retina with a buckle.
The conference was time well-spent with the elite in retinal care, hearing these minds share best practices, challenge one another on procedures and treatments, and find unique solutions. If this is any indication of what is to come, the next webinar should not be missed. CE credit (1.5-hour credits) will be given for the next virtual session. In addition, RCA will be recording future sessions to enable physicians to watch and gain CME credit on-demand at their convenience. If you are interested in presenting a case, please email Dr. Amy Schefler, at: acsmd@houstonretina.com.