Retina Group of New England Joins Retina Consultants of America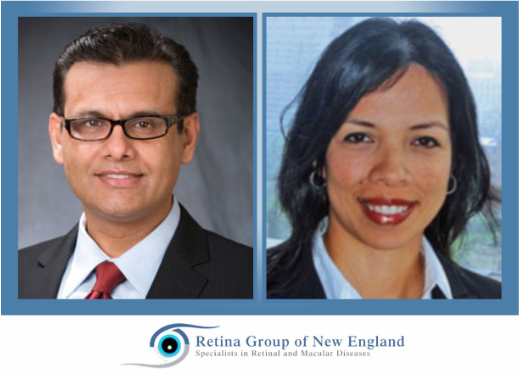 Above: Dr. Nauman Chaudhry, MD, and Dr. Juner M. Colina-Biscotto, MD, of Retina Group of New
England partner with Retina Consultants of America.
WATERFORD, CT (December 29, 2022) – Retina Consultants of America (RCA), a comprehensive physician management services organization, announces the welcoming of Retina Group of New England (RGNE) into its nationwide network of physicians. This addition will be RCA's 30th partnership and will break ground for RCA in Connecticut, to now operate in 20 states across the U.S.
"The doctors of Retina Group of New England are excited to join the ranks of highly accomplished and nationally recognized physicians and business team of RCA," said Dr. Nauman Chaudhry, Retina Group of New England. "We believe our partnership with RCA will significantly enhance our access to cutting edge and state of the art clinical trials and other resources in delivering the highest quality of care to our patients. Similarly, it will provide excellent opportunities for continuous growth and development of our employees and will contribute to the betterment of our community. We feel honored to be in the company of some of the national and world leaders in the field of macular and vitreoretinal disorders and look forward to working closely with them."
Retina Group of New England specializes in the treatment of age-related macular degeneration, diabetic retinopathy, retinal detachment repair, retinal vein occlusions, and other disorders of the retina, vitreous, and macula. Patients can visit one of three main Connecticut locations: Norwich, New London and Guilford. Offices are equipped with state-of-the-art diagnostic tools. With one of the most cutting-edge research centers for vitreo-retina diseases in Connecticut, their extensive work contributes with the newest developments in retinal disease treatments and macular surgeries.
D. Virgil Alfaro and Eric P. Jablon of Retina Consultants of Charleston and RCA, released a joint statement to applaud the addition of RGNE to their network of physicians:
"Through partnership with Retina Group of New England, RCA continues its mission in advancing eye care with practices who share a common ethos of clinical excellence and the highest quality care for the patients we serve. We have great admiration for Drs. Chaudhry and Colina and have enjoyed our academic and clinical relationship since 1993 at the Yale School of Medicine. Having worked on multiple academic projects and publications throughout the years, we could not be more thrilled to welcome our friends to the RCA family."
Dr. Nauman Chaudry, is a nationally recognized vitreo-retinal surgeon who received the Honor Award by the American Society of Retina Specialists (ASRS) for his academic and research contributions. Dr. Juner M Colina-Biscotto, received her medical degree from the Central University of Venezuela School of Medicine, and has worked extensively through her career to enhance the treatment of ocular melanoma and other ophthalmic tumors. Currently, Dr. Colina-Biscotto is an Assistant Clinical Professor of Ophthalmology at the Yale School of Medicine and has published numerous articles in peer-reviewed journals.
RCA's business model enables retina specialists to retain autonomy and ownership, augmented by sharing best practices facilitated through the Medical Leadership Board and executive management support. Practices within the network will continue to drive all clinical decisions and remain highly involved in strategic operations.
If you are interested in learning more about the advantages of partnering with RCA, e-mail info@retinaconsultantsofamerica.com.